Hamilton-Halton, ON Chapter
Get in touch with our Hamilton-Halton team by: 
Phone: (289) 707-5760
E-mail: hamiltonhalton@safefamilies.ca
Mailing Address:  Safe Families Canada | Hamilton-Halton, 23 Melville, Hamilton, ON,  L9H 1Z7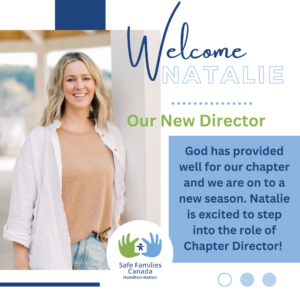 Meet our Assistant Chapter Director!
God has provided well for our chapter and it is time for Hildy to pass the baton for a new season. On May 15th Natalie will be stepping into the role of Chapter Director. Natalie is excited to enter into this new position and we are excited to see how God will bless and continue to enrich Safe Families under her leadership. Hildy will continue to be a part of Safe Families in our region in an advisory capacity because, as you know, she loves this ministry very much.
Thank you for your incredible support through prayers, words of encouragement, practical support and financial gifts. Please welcome Natalie to her role and continue to provide her support! It is our deepest prayer that God will continue to receive all the glory as he moves hearts towards his – in his church and throughout his kingdom!
WELCOME, NATALIE!
Natalie is a wife and mom to three children and also fosters through the Hamilton Children's Aid Society. When she first heard of Safe Families she felt a strong pull to be involved, knowing personally of birth parents that maybe would not have been separated from their children had they had some support. Starting on the Steering Committee, then hired as Assistant Director, Natalie now steps into the Chapter Director role with hands and heart open to how God will lead. She is passionate about this ministry and seeing families safe and strong together.
We need you, Hamilton/Halton church members. Check out the website, social media, the brochures included here, past issues of the newsletters, or contact us for more information about our chapter.  We'd love to connect with you. There is a place for you!
Leadership Council:
Kyle Beishuizen             Rebecca Eckert          Cathie Lemmond
Justin DeWaard            Jason Datema             Keith Knight
Events!

Please register your team for our upcoming Golf Tournament on June 23!!
We are excited to have you join us! Click HERE.
Info Sessions and Training
Online Training Available!
Please email hamiltonhalton@safefamilies.ca

Ti Cats Volunteer Opportunity
This fun volunteer opportunity brings in a lot of financial support for our chapter of Safe Families. Every volunteer will tell you it's worth your time as they really enjoy being in the Tim Horton's stadium serving, and knowing the proceeds from a community event are supporting families within our community is a huge bonus! Email sfhhevents@gmail.com to get started!