Guelph-Wellington, ON Chapter
Contact us:
Phone: 519-807-4125
Email: guelph@safefamilies.ca
Address: Coming Soon!
Office hours
Veronica has always had a heart for the vulnerable; people experiencing seasons of struggle or tough spots in life. Veronica has been involved with a Christian 12 step program for close to a decade. She has walked alongside many people struggling with addictions, grief and loss, as well as those who have experienced sexual abuse trauma and marriage difficulties/breakdowns
Veronica and her husband have been married for 17 years, have four children and have been involved in the world of adoption for over five years. She has seen how the Lord blesses those who have an open heart to the will of the Lord
Veronica is excited to witness the many willing and loving hands working here in Guelph-Wellington in order to spread the joy of the gospel right here in our own community! Veronica lives in the full confidence that Christ is the one who ultimately heals our broken hearts and spirits. As Christian communities, we are the tools and hands that Jesus uses. To be Christ's hands and feet while being a firsthand witness to the power and working of the Holy Spirit is life's greatest honour and joy!
"He has shown you, O man, what is good; And what does the LORD require of you: But to do justly, To love mercy, And to walk humbly with your God" Micah 6:8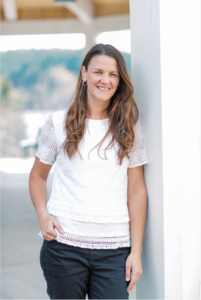 Meet our Family Placement Coordinator Michele Van Dyken!
Michele considers it a joy and inspiration to step into this role alongside so many others who desire to be the hands and feet of Christ, bringing the power of his life, light, and love to our communities. God has placed in her heart a deep love and care for others, and she looks forward to sharing the hope of the Good News of Jesus Christ with those we walk alongside.
Michele lives with her husband and five children in Mount Forest, and is pursuing further studies in Biblical Counseling.
With so many rich promises in Scripture to hold and the very presence of God with us, Michele is confident that God, who began this good work, will bring all he desires to completion. She looks forward to meeting and working with those from our local churches who will partner with us in this work.
Leadership Council Members:
Debbie Swaving            Derek Griffioen       Greg Vanleeuwen
Hannah Tamminga      Marina Reitema      Robin Fletcher
Adrian Tamminga
Check Us Out!
Newsletter – Coming Soon!
Events
PLAY DAY 2023