Ottawa, ON Chapter
Get in touch with our Ottawa team by:
Safe Families Canada | Ottawa
2214 Innes Road, Ottawa, ON, K1B 4C4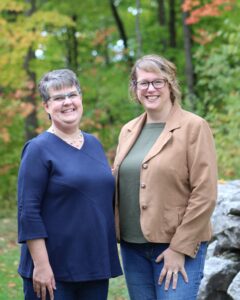 Safe Families Canada | Ottawa
Safe Families Canada launched in Ottawa in May 2019.  Our chapter regularly receives referrals and works closely with Ottawa Public Health, the Children's Aid Society, local hospitals, shelters, pregnancy care centres, midwifery organizations, community service organizations, churches as well as self-referrals.  We also receive referrals from the many smaller municipalities surrounding Ottawa and are currently exploring ways to extend the reach of Safe Families to them.
We are so thankful for the amazing support our volunteers share with families in Ottawa.  They have supported families experiencing homelessness, mental health crises, cancer treatments and other medical emergencies, new babies, new Canadians, and grandparents raising their grandchildren.  We have seen friendships built, families connected to church communities, and families reunited because of the support of our volunteers.  
God planted this verse on my heart a couple of years ago, [Isaiah 58:12 NIV]. "Your people will rebuild the ancient ruins and will raise up the age-old foundations; you will be called Repairer of Broken Walls, Restorer of Streets with Dwellings."
It will take a growing army of incredible volunteers for us to come alongside families and to provide opportunities for there to be a restoring of families on the streets of our region. Our church partnerships are so vital to the future growth of the Ottawa Chapter.  Imagine the future impact on families, if we had just one volunteer from every church in our city! Together, we can stand in the gap for these precious families, believing the best about them, loving them, and cheering them on as they tackle the challenges in their lives.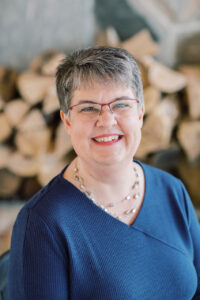 Chapter Director – Debbie Macphail
Debbie Macphail has been in full-time ministry for over 15 years, serving within a church as the Director of Children & Family Ministry. Her background is in special education, specifically working as an Educational Assistant with children with special needs at a local school board for 15 years. Debbie has volunteered with Safe Families Canada l Ottawa as a Ministry Lead, Family Coach, and our Leadership Council Chair before becoming the Ottawa Chapter Director in 2023.  Her heart is 100% for family restoration, and loves the vision of Safe Families Canada, "Creating a world where children are safe and families transformed through radically compassionate communities."  
Get in touch with Debbie:  debbie.macphail@safefamilies.ca
Family Placement Coordinator – Danielle Presseault
Danielle Presseault has spent nine years in ministry, developing leaders and loving on families. Danielle joined Safe Families in 2023 with a background in teaching, as well as extensive experience in the community and developmental service fields.  Her experience in leadership development will help us strengthen and grow our volunteer community as they surround families with caring, compassionate community. 
Get in touch with Danielle:  ottawa@safefamilies.ca 
Ottawa Chapter Leadership Council Members 2023-2024
Elizabeth Inyang (Interim Chair)       Keith Davis       Debra Jackson
Merlin Liu                                               Sheri Moffat      Joel Oosterman
Steve Outhouse                                     Meg Warren
Events

As we draw nearer to the holiday season, we are excited to announce the launch of our annual Gift of Family campaign. This cherished initiative brings support and joy to children and families during this special time of year.  This year, consider Safe Families Canada in your year-end giving. Consider how the Gift of Family can keep children safe and families together.
May you be blessed this season with the Gift of Family.
Join the Movement!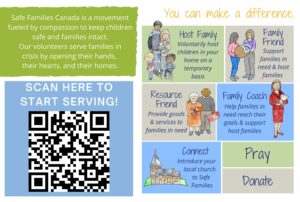 Financially Support the Ottawa Chapter