Ottawa, ON Chapter
Get in touch with our Ottawa team by:
Phone: 613-222-8266
Email: ottawa@safefamilies.ca
Mailing Address: Safe Families Canada | Ottawa, 2214 Innes Road, Ottawa, ON, K1B 4C4
SFC Ottawa Chapter has trained, vetted and screened over one hundred compassionate volunteers and have been hosting children and supporting families in crisis consistently since their launch. They regularly receive referrals and work closely with Ottawa Public Health, the Children's Aid Society, local hospitals, shelters, pregnancy care centres, midwifery organizations, community service organizations, churches as well as self-referrals.
One of Ottawa's local newspapers featured the remarkable story of just one of the many families we are providing support to Safe Families' role is to provide extended family-like supports to families facing complex and overwhelming situations. It is an honour for us to serve this beautiful family and so many others with compassionate, caring support.
Read the story HERE!
Meet our Chapter Director!
Rev. Kimberly Sabourin has been in full time ministry for over two decades and in fostering and adoption professionally for the past 16 years. Kimberly has a background in education as both a teacher and Vice-Principal and has spent her entire career focused on the family. She spent three years specializing as a Director in a maternal health centre and has been the Regional Director for Safe Families Ottawa since May 2019. 
Meet our Community Coordinator!
Darian has over six years of experience working in the social services field. Prior to moving to Canada, Darian was a licensed mental health counsellor in the United States. She has extensive experience working with families-in-crisis as well as working with children and teens who have experienced various traumas. Darian has a heart to serve and empower vulnerable populations and to see families restored. Darian was excited to hear about the work of Safe Families in Canada and the heart behind the organization of keeping families intact. In her spare time Darian enjoys getting coffee with friends, taking care of her house plants, and playing board games with her husband.
Safe Families Ottawa | Leadership Council 2022
Debbie Macphail – Council Chair         Joel Oosterman        
Steve Outhouse – Treasurer                 Merlin Liu            
Meg Warren – Secretary                             
Upcoming Events
Stay Tuned! We are always up to something!
Join the Movement!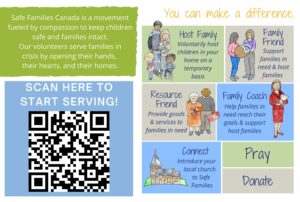 Financially Support the Ottawa Chapter