Safe Families PLUS
Providing Lasting Unconditional
S

upport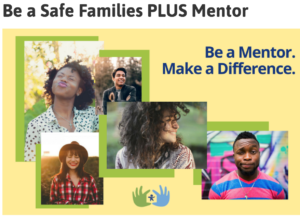 A significant amount of youth in the child welfare system will never be placed in a permanent home and will age out of foster care with few supports or opportunities. Without the skills needed to navigate adulthood, these are the young people most at risk for human trafficking, gangs, homelessness, credit fraud, substance abuse, and unplanned pregnancy.
But we can change that!
Safe Families PLUS (Providing Lasting Unconditional Support) Mentors are key partners in helping older youth successfully transition to adulthood. Mentors are paired with a youth or young adult between the ages of 14 to 21, and are expected to commit to at least a year of meeting on a consistent basis. Mentors can serve as "anchor families" to youth, providing a safety net to fall back on after leaving the child welfare system.
A Safe Families PLUS Mentor provides mentorship to a youth aging out of foster care system. They connect the youth to needed relationships and resources, while helping them discover and achieve their goals and dreams.