Events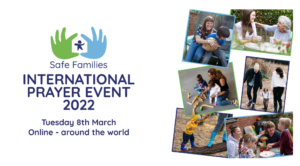 International Day Of Prayer 2022
Tuesday, March, 8, 2022
(10am PST; 11am MST, 12pm CST, 1pm EST, 6pm GMT, 2am HKT)
A prayer event with team and supporters from Safe Families US, Canada, UK and Hong Kong coming together in unity around our vision and mission.
About this event
You are invited to join with Safe Families teams from across the UK, US and Canada as we come together to pray for families, churches, local authorities and our teams, volunteers and supporters.
We'll be led by Founder Dr Dave Anderson, UK CEO Kat Osborn, Executive Director Canada Adele-Marie Diffey and Alia Eyres, CEO Mother's Choice, launching Safe Families in Hong Kong.
We are excited to come together as Safe Families teams from across the world to pray for our shared vision and mission.
Register Here:
https://www.eventbrite.co.uk/e/safe-families-international-prayer-event-tickets-261652247917
---
PLAY DAY is Coming! – September 24th! – WE NEED YOU!